4.- App sends three values ​​separated by comma. Arduino receives them and separates them.
In this example we will use the same App as in the previous example.

We assume that the App wants to send these numbers separated by commas to the Arduino: 126,3,58


An asterisk will be added indicating end of message. [126,3,58*]

In this case it is necessary to indicate the end of the message (example with asterisk) since we can send any number.

Arduino will receive that text and separate it by the comma.

Check Serial Monitor.
// Juan A. Villalpando
// http://kio4.com/appinventor/9A0_Resumen_Bluetooth.htm

char caracter;
String palabra;

String red;
String green;
String blue;
int ind1;
int ind2;
int ind3;

void setup() { 
  Serial.begin(9600);
}

void loop() { 
  if(Serial.available()) {
  caracter = Serial.read();
  palabra = palabra + caracter;

   if(caracter == '*') {    
    palabra = palabra.substring(0, palabra.length() - 1); // Delete last char *
        Serial.println(palabra);
        ind1 = palabra.indexOf(',');
        red = palabra.substring(0, ind1);
        ind2 = palabra.indexOf(',', ind1+1 );
        green = palabra.substring(ind1+1, ind2);
        ind3 = palabra.indexOf(',', ind2+1 );
        blue = palabra.substring(ind2+1);

        Serial.print("red = ");
        Serial.println(red);
        Serial.print("green = ");
        Serial.println(green);
        Serial.print("blue = ");
        Serial.println(blue);
        Serial.println();
     palabra = "";
     delay(10);
   }
  } 
}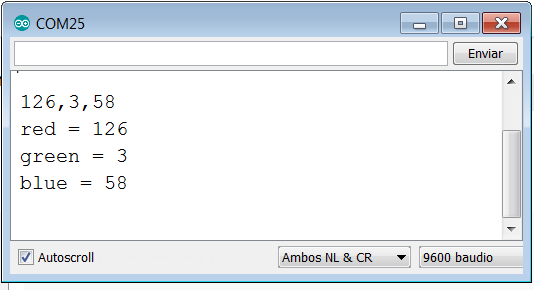 ooooooooooooooo000000o000000ooooooooooooooo
Another way to split the data in with this getValue function:
Serial.println(palabra);
        red = getValue(palabra,',',0);
        green = getValue(palabra,',',1);
        blue = getValue(palabra,',',2);

(...)

///////////////// Function Split by char ////////////////
String getValue(String data, char separator, int index)
{
  int found = 0;
  int strIndex[] = {0, -1};
  int maxIndex = data.length()-1;

  for(int i=0; i<=maxIndex && found<=index; i++){
    if(data.charAt(i)==separator || i==maxIndex){
        found++;
        strIndex[0] = strIndex[1]+1;
        strIndex[1] = (i == maxIndex) ? i+1 : i;
    }
  }

  return found>index ? data.substring(strIndex[0], strIndex[1]) : "";
}