The spinner component is an odd thing, and requires some rigour to get control of it.
This is how I usually setup a spinner so that all the selections are available every time. I use a button to set the selection and call the spinner dropdown, and "hide" the spinner by setting its height and width to 1 pixel each. If placed inside a centred horizontal arrangement, the spinner should be invisible in all themes.
By adding a "Close Menu" selection (it can be called what ever you want) at the first index, and by setting this before calling the drop down, all preferred selections are available, and selecting "Close Menu" from the drop down does nothing other than close the drop down. You then use if/else blocks to action the other selections as required.
BLOCKS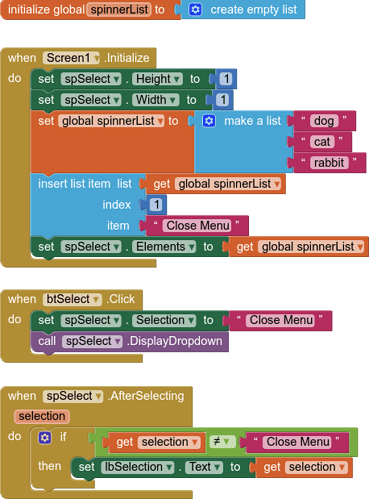 EXAMPLE AIA PROJECT
spinnerSetup.aia (2.7 KB)