Hello all,
I am very newbie to App Inventor, but I have tried to read a lot of tutorials and helps about my problem, without success.
I want to populate a Spinner wit the datas in a csv file. This file has 2 columns, one for the kinds of materials, and the other is a property related to that material.
What I want is to populate the Spinner ONLY winth the first column of the file (materials), selecting one of them, and getting the other value in 2nd column as data for calculations.
I only get to populate with both datas from column 1 and 2 in the normal way I have seen in tutorials
I have tried a lot of things by myself without result. Apart, there are a lot of similar controls (ListPicker, ListView, Spiner, etc) and I do nbot know wich is the best for my proposal. This is an option (only one example) of what I have tried: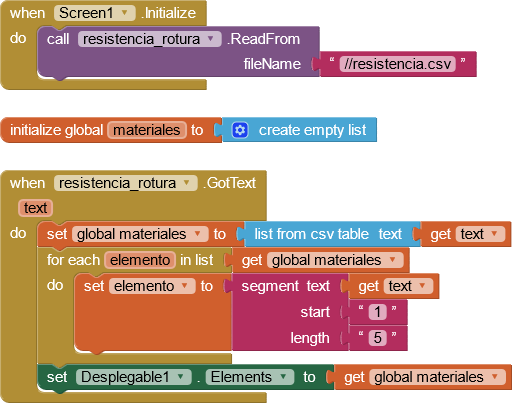 Thanks in advance for your help