Hello there!
I am currently developing a finance app and I'm trying to implement a function which ranks the categories that the user spent their salary on. Here's how it going to work:
The app calculates the budget and actual amount of the user's expenses for each category, it will make a list of the budget and actual amounts for each category.
The app will then find the differences between the actual amount and budget amount for each category.
The app will then rank the list from the smallest to the largest differences in budget and actual for each category.
The app will then take that ordered list of categories and insert it into a temporary database.
The app will then turn the differences in each category that it represents (Home Expenses, Utilities, Food, etc).
The app will then display the text from the database into the notifier that will pop up.
I've so far done coding all the procedures up until procedure/step/number 5 where the app will turn the sorted differences into their supposed categories. I have attempted this by using dictionaries but it gave me an error message. I've searched for solutions and played around with the blocks to try to find a solution for way too many hours. Below are my blocks and project download, if you see something wrong with my blocks, please reply to this post ASAP. However, if anyone has a different way of doing this in a more efficient way, please feel free to send out your method of how you would achieve this.
PS: in the project, the blocks in the screenshot can be found in the near top right hand corner of the blocks
Thx :)!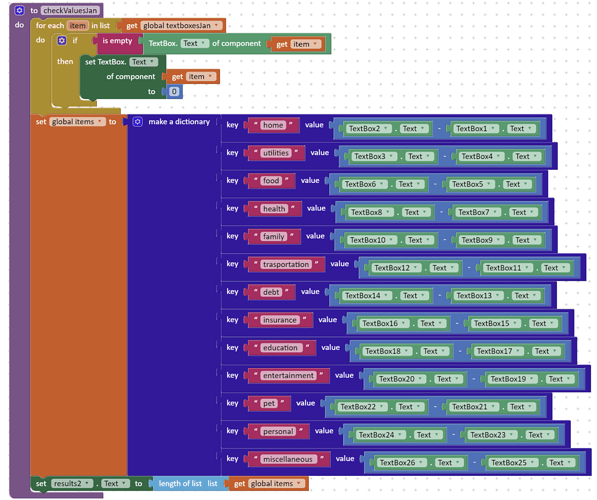 The_Finance_Budgeter_checkpoint3.aia
(6.0 MB)