1.Introduction
Description: With this extension you can send emails using SMTP servers
Latest Version: 1.3
Released: 2020-12-30T18:30:00Z
Last Updated: 2021-01-09T18:30:00Z
2.Blocks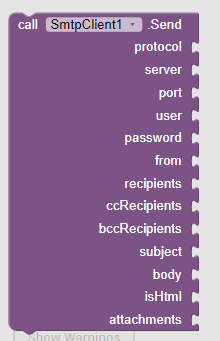 3.Usages
You can use the extension in this way: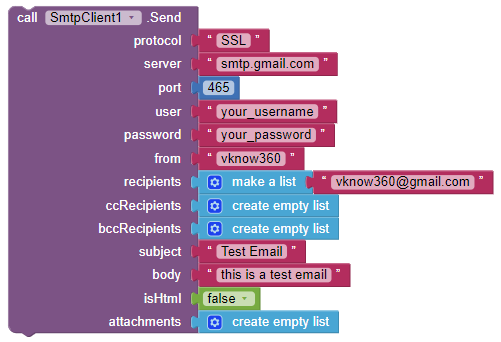 And here is a brief documentation:
protocol ~ either TLS or SSL
server ~ string
port ~ int
user ~ string
password ~ string
from ~ string (can be different from username)
recipients ~ list
ccRecipients ~ list (can be empty)
bccRecipients ~ list (can be empty)
subject ~ string
body ~ string
isHtml ~ boolean
attachments ~ list (can be empty)
4.Downloads
Download Link1: com.sunny.SmtpClient.aix (476.0 KB)
5.Liked my work
Thank you


Kindly consider about donating some amount to keep me motivated. [PM me if you have already decided

]
Once again, thank you.
6.ChangeLog
ChangeLog Version 1.1

Changes

Switched to JavaMail from Commons Net
ChangeLog Version 1.2

Changes

Reduced extension's size (by 30%)

Bug Fixes

Fixed issue with TLS protocol
ChangeLog Version 1.3

Changes

Bug Fixes
Hope it helps!