1.Introduction
Description: With this extension, you can send emails using SMTP servers
Latest Version: 1.5
Released: 2020-12-30T18:30:00Z
Last Updated: 2023-07-02T18:30:00Z
2.Blocks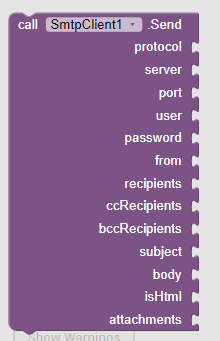 3.Usages
You can use the extension in this way: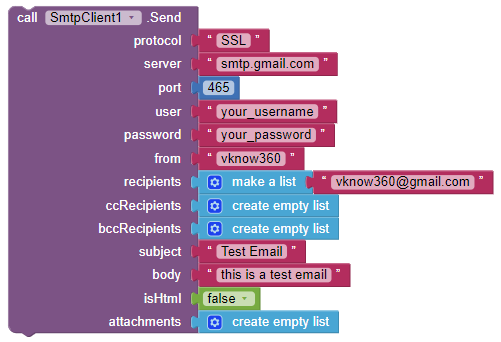 And here is a brief documentation:
protocol ~ either TLS or SSL
server ~ string
port ~ int
user ~ string
password ~ string
from ~ string (can be different from username)
recipients ~ list
ccRecipients ~ list (can be empty)
bccRecipients ~ list (can be empty)
subject ~ string
body ~ string
isHtml ~ boolean
attachments ~ list (can be empty)
4. Downloads
Aix:
com.sunny.SmtpClient.aix (444.4 KB)
External Ref:
5. Liked my work/Want to donate
Kindly consider donating some amount to keep me motivated.
Thank you

6. ChangeLog
ChangeLog Version 1.1

Changes

Switched to JavaMail from Commons Net
ChangeLog Version 1.2

Changes

Reduced extension's size (by 30%)

Bug Fixes

Fixed issue with TLS protocol
ChangeLog Version 1.3

Changes

Bug Fixes
ChangeLog Version 1.4

Updated deps to fix issues with Android 11
Reported by @wikki74
ChangeLog Version1.5

SmtpClient: An extension to send emails using SMTP server - #208 by vknow360
Hope it helps!