(This topic was edited on 2022/06/21)
Hello friends,
this extension is about inserting animated gifs in our applications.
It needs an Image component.
The image can be clickable and transparent background.
Blocks:
LoadGif, needs a Image component. Image file can be in asset, it is only necessary to write its file name.
[It could also be in the SdCard, in this case we would write the absolute address /mnt/sdcard/directorio/file.gif]
We can set a color mask for the transparent background, ¡try several!, white, black, yellow ...

GetFrameCount, number of frames gif file.

GetCurrentFrameIndex, number of actual frame showed.

GetNextDelay, delay of next frame, gets of file gif.

Clock1.Timer
Image1.Photo = NextFrame (gets frame, inserts in Image)

GetFrames, decoder each frame and save them in ASD/frames_gif.

Events.
ImageDown and ImageUp, x,y positions of touch in image. inside is a boolean.
Frames, get frame. Insert in Image.Photo = frame
oooooooooooooooooooooooooooooOOOooooooooooooooooooooooooo
You can create the animated gif in two ways:
a) Using LoadGif and NextImage (each image is decoded and displayed.)
b) Using CopyFrames, (all images are decoded and displayed one by one.)

Let's see several examples:
1.- Each image is decoded and presented.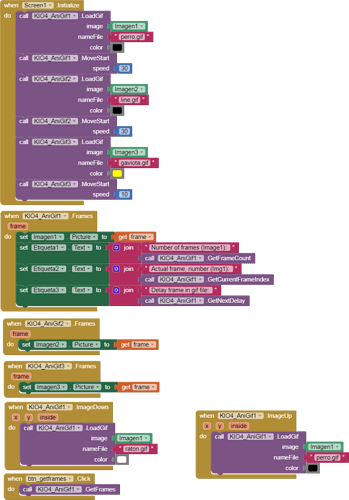 p193A_gif_animado_v2.aia (866.8 KB)
2.- All images are decoded, copied in directory ASD/frames_gif and displayed one by one. CopyFrames.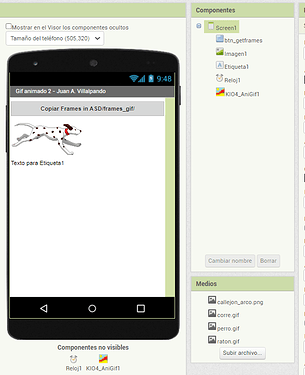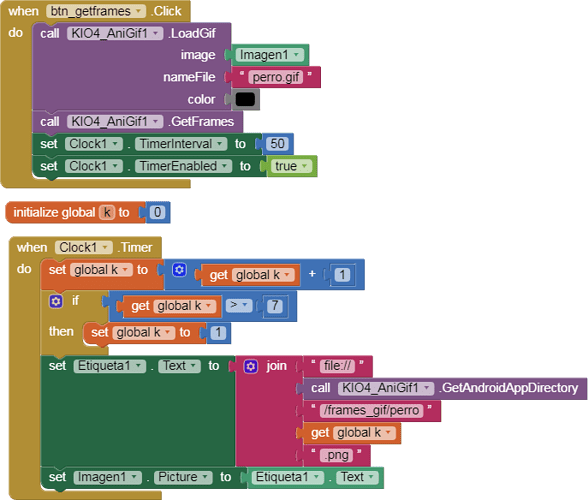 p193A2_gif_animado_v2i.aia (1.1 MB)
3.- If the transparent background doesn't work for us, we can put a flat colored background.
p193A3_gif_animado_v2.aia (1.8 MB)
oooooooooooooooooooooooooooooOOOooooooooooooooooooooooooo
This extension is based in GifDecoder.java but with many changes.

You can get com.KIO4_AniGif.aix file from:
Create Build Crear App Inventor Extensiones Extensions. GIF animado, Animated GIF Android Click over touch.
More extensions:
http://kio4.com/appinventor/index.htm#extensiones
Juan Antonio Villalpando.