AI2Helper v2.1 (21/02/2022)
1.block finder more quick and accurate.
Can you add upload png also because I am mobile user
what png you want? have you checked the first post?
I want uploading png block to blocks
I am saying to add a button to upload image to blocks section (png blocks) instead of drag droping blocks
But I think 'drag and drop a png' is more convienent than 'click a button, select the png file, then upload'
But I am a mobile users and I need button
but can you use extension on chrome on mobile phone?
No, you cannot use Chrome extensions on Android Chrome.
@TheCodingTruck, try to use a PC.
BTW: Nice extension!
I can you (Kiwi browser) play store
We can upload chrome browser in it
Have you tried this extension already? if it's working for you, then we will discuss more functions. @TheCodingTruck
Is there a way to get the extension to not block so much of the Workspace when using the Find function? More often than not on my laptop the extension popup blocks what I just found.
Either break out the Find function to a separate extension, or add menu branches so the Find feature extends horizontally instead of vertically?
Tested it with Brave Version 1.35.103 Chromium: 98.0.4758.102 (Official Build) (64-bit) and Linux Mint.
Working great. Nice job. Very useful.
Sorry, I don't fully understand you. Can you explain more?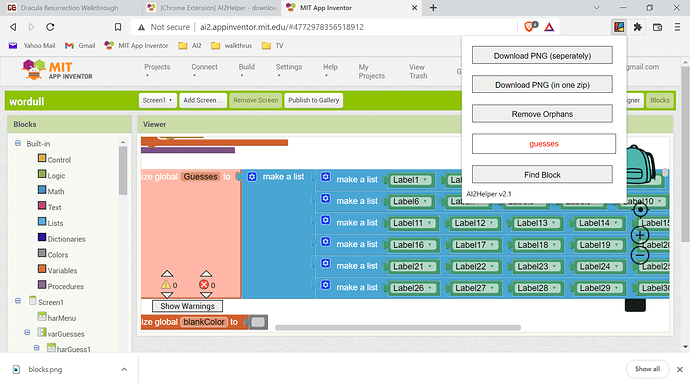 I was hoping to avoid overlap onto my blocks view after a FIND operation.
In retrospect, it's not that bad, considering how the found block is well centered.
I feel I am asking too much, gilding the lily.
In recompense, I offer this old joke as an anti-award for myself:
A grandmother and her beloved grandson are at the beach. They're playing near the shore. Suddenly a giant wave comes and sweeps the boy out to sea. The grandmother is beside herself with grief. She drops to her knees. She's weeping and sobbing and implores God to return her little one. Lo and behold, another giant wave comes and deposits him back on the shore, unharmed. The grandmother embraces him and, overwhelmed with gratitude, thanks God over and over and over. Then she pauses, looks up and says to God, "But where's his little hat?"
I made the button so big, for me to click them easily. Maybe next update change to icon and arrange horizontally
AI2Helper v2.2 (23/02/2022)
1.UI change
2. other minor fix
now the popup window looks like this: