Hi, my app has been partially approved, so ancient knowledge can meet modern technology again.
I said "partially" because most people had iPhone and couldn't test my app. I hope it will soon be possible, ...are you still working on iOS?
I now proceed with fixing the data storage following ABG's suggestion to associate TinyDB with Clock.
My data consists of:
user detects the informations in his pulse by Self-Pulse Reading Technique, then clicks buttons on various pages of the app, writes notes and saves his data as one reading session (a text string that will be added as an item to the list of readings).
about 20 or more readings can be taken in one day, …or none.
Data organization:
one reading will be saved as a Tag with the Tag name corresponding to the Time of that reading
all readings of a day will be grouped in Namespace with the name corresponding to the day of those readings.
I guess the Tag is like a file, while the Namespace is like a folder that contains many files. Am I right?
The Clock parameters must be transformed into Milliseconds in order to be saved as names in TinyDB.
Data display:
the readings will be displayed in the table on the "List page" of the app
when the "List page" is opened, the readings of the current day will be visible
user can choose the date in DatePicker and view the readings of the previous days.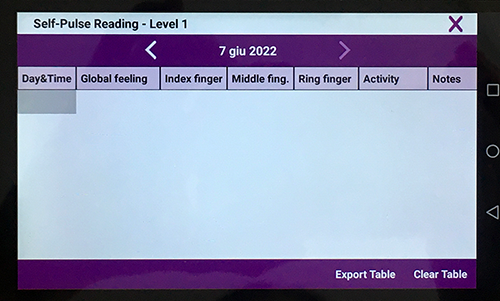 I am currently using TableView extension. I cannot build DynamicTable with WebViever (I tired) because I use android 6 as a Companion (all other my devices are iOS), it also requires TaifunTools extension.
I would like to avoid any extensions in my app (seems they are for android only), so when it will be possible to export the project for iOS I will not have to change anything. Am I right?
I started building the table by simply using the Table Component and Labels, but I'll work on it later.
So far I have done:
I built DatePicker and it works:



DatePicker must show dates from now towards the past. Therefore, when the "List page" is opened, the Date Picker "right arrow" is disabled and has the image "off". When I click the "left arrow", the "right arrow" becomes enabled so I can slide through the dates up to now.
When I go back to "now", the "right arrow" should become disabled and change its image. How can I do?
It would be also useful to set in the DatePicker dialog (popup) as the active dates only those ones on which the readings were archived, but it is secondary thing.

I have read several posts/tutorials/video about the use of TinyDB and Clock, I have tried to understand especially this one:
Creating Profile to store other reading - #6 by ABG
but I gave up, ...toooo complicated for me and i don't know which blocks are really useful to me.
Right now I've done like this:



...but obviously it doesn't work.
This is my project file:
Nadi_04.aia (975.6 KB)
Can you guide me step by step, please?
So my first question is: how to correctly store one reading in a Tag and set the Namespace for that Tag?
It must be possible to recall that Namespace later with the DatePicker in the "List Page".
Thank You