Information
This extension allows you to add your app in launcher category and then can be made the default home screen of the android device.
You can design your screen that how you like to show it in home screen.
I have also added some basics blocks to get apps list, open apps, show uninstall app dialog and to check if the app is a system app or not.
I have also prepared a demo aia using colintree listview extension to show it's basic use.
Thanks a lot to @Chaimka for sponsoring this extension

!
Blocks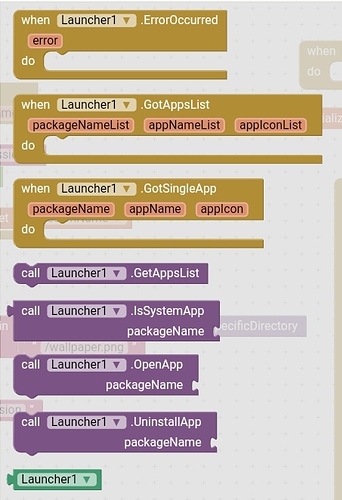 Download
AIA - LauncherApp.aia (101.7 KB)
AIX - com.atomdeveloper.Launcher.aix (13.7 KB)
The extension would work for Screen1 or if you haven't set any custom package name in app, but if you have set custom package name for your app or you need it for any other screen, you need to use this page to generate extension for it.
Donate
As the extension is free to use you can donate any amount if you liked this extension