1.- MQTT.
MQTT (Message Queue Telemetry Transport) is a protocol widely used in the Internet of Things (IoT).

It uses short data.

MQTT Broker is a server where we will send the data for clients to read.

Example de Brokers: mqtt.eclipse.org, broker.hivemq.com, io.adafruit, ThingSpeak, Cayenne, mosquitto…

It is very common for Raspberry Pi fans to install the mosquitto broker.

The way of using it is similar to CloudDB or FireBase, we send a data to the cloud-broker (internet) and the clients read this data in "real time".

A device sends data (Publish) to Broker. Other device receives that data from Broker (Subscribe).

ESP32 is connected to our Router by WiFi.

ESP32 Publish a topic (juan/temperatura) with a value (payload) to Broker.
Mobile is Subscribed to that topic, receives that value in "real time".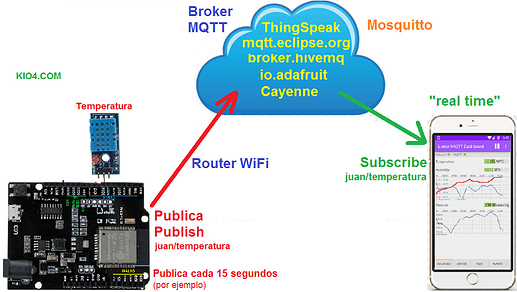 Our mobile Publish the status of a Button in the Broker through the topic juan/boton.
ESP32 is Subscribed to that topic, it receives the status of the button and on/off the LED.

More info.
https://www.hivemq.com/mqtt-essentials/