My app is shutting down more or less randomly after the latest App Inventor update. I suspect that the latest web-component is giving me a fatal error in the case when the old web component just gave me error dialog. Is this a known issue?
Long story:
The idea of the app is to work as "proxy" between BLE-connection and server in internet. The app uses latest BLE-extension for bluetooth, TaifunTools to keep the screen on, the POST method is done to https-address, and in between it locally saves the BLE messages into a txt-file. The BLE-->POST is buffered so that if error occurs, the messages start to pile and they are sent in the right order later.
Before the latest AI update the app worked stable, but now it shuts down randomly without any error message. I was able to find out that everytime the shutting happens, it is when the POST method is used. Usually, the POST is just fine, so it does not happen everytime. I have the 1103-error in the "when screen.ErrorOccurred" block to sent the POST again: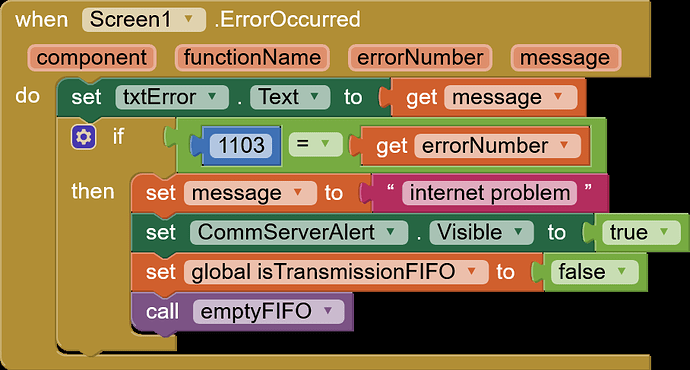 After the latest AI update, I never see that 1103 error in my app, but the app crashes. That is why I suspect that.
I tried the same code, with rewritten web components, with Kodular today and I cannot get it to crash. I do get the 1103-error every once and a while, though. But the app can handle that easily. During the import Kodular told that the web-component were of too high version, and removed them. That's why I rewrote them.
Is this a known issue with the latest web-components and is there some way I can make it work myself?
Jussi
EDIT: I tested the operation of the app when I disable the WiFi from the mobile device, and the latest build in App Inventor crashed immediately when the Kodular build starts to make a pile in the buffer just as it should. I am now sure that it is the source of the error.