sorry, I do not understand the question, please elaborate
also read this

Taifun
It would be better to provide constructive feedback on what might be improved.
Currently I am working on same. I am designing ui of appinventor so wait till it completes
messages are defined into the OdeMessages.java file present in appengine folder.
Looking at the screenshot, it looks like they are trying to manipulate a copy of AI2Ofline. A compiled version of App Inventor is very different from its original source. You'd likely be much better served manipulating the sources themselves rather than hacking changes onto AI2Offline.
@ewpatton No no sir we intend not to do anything bad.Due to showing App Inventor Build Error I'm only here in some try.I have no intention of hacking this AI2 just to use it myself.I just want to see my own builder in a different way.Of course I wouldn't do this a second time if editing AI2 was wrong.
Thank you sir for your important feedback
@dora_paz Thank you so much sir for helping me such a big one.Many Many thanks
@preetvadaliya Honestly thank you so much I never thought anyone would show me so beautifully.Thank you very much.I wish you all the best.
Thank you very much
It seems that he is using AI2U version from the source-forge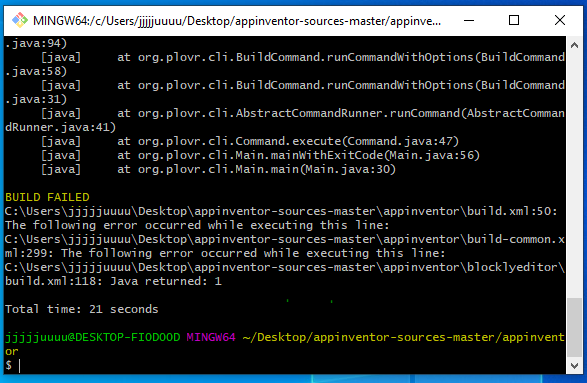 @Appzard_lover @preetvadaliya @Taifun @dora_paz @SRIKAR_B.S.S
Why show build failed when type this commend ant noplay Please
please refer this for more details.
can you please share build log with error i can't see the error.