What problem are you trying to resolve??
If you want to change sdk target version, use this post.
Hello, i've been absent since two weeks. I still can´t upload my .aab file. PLEASE HELPPPPP:(
You found the correct thread which is great... however you forgot to read the contributions, especially this one
Taifun
solution with video tutorial working for me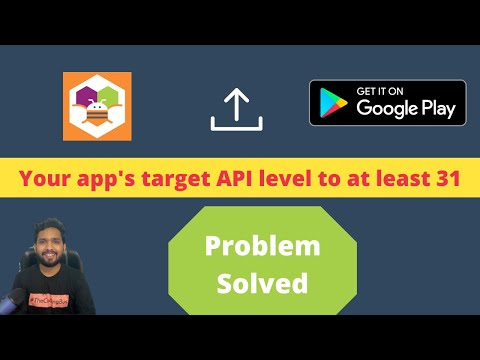 How to change Target API level 30 to 31 in MIT App Inventor 2
Follow the steps-:
Open the Main site of the MIT App Inventor http://ai2.appinventor.mit.edu/
Open Your App.
Now Click on the Project and export the aia file of the selected project.
Now Open the Test version of the App Inventor link -: http://ai2-test.appinventor.mit.edu/
Now Click on project and import the aia file that you have recently exported.
Now go again the main site http://ai2.appinventor.mit.edu/
Click on the project and select Export Keystore
Now Import the keystore in your test version of the app inventor http://ai2-test.appinventor.mit.edu/
Now Build the aab file and upload this file to playstore
Yes you can retry building ur apk and/or creating test apk to see if its your app that have a problem.
@TheCodingBus The best solution can be to wait for a few days, or use APK Editor studio

Since API 31 update will be coming soon!
Also I am one of your viewers
@Ridoy1 Here I use VS code and APKLab extension
Open VS code just the program
CTRL + Shift + P ➜ APKLab: Open an APK
For edit Manifest AndroidManifest.xml replace android:exported="false" > android:exported="true"
For set targetSdkVersion change in apktool.yml then save
Right-Click on or inside apktool.yml file ➜ APKLab: Prepare for HTTPS inspection
Right-Click on or inside apktool.yml file ➜ APKLab: Rebuild the APK
now I have only memory heap error so this may work if my memory is enough
Hi, I did it, the app was loaded correcly and availlable for alpha test but, at start, a message "The permission READ_EXTERNAL_STORAGE was denied" appears. No problem with the same app built with "standard" ai2 and installed using apk.
There is a known walkaround?
Thanks
App Inventor already has this option (which is probably why Kodular has it, as Kodular is basically a clone, using MIT's Open Source).
That should not happen. In order to understand/investigate the problem, we need the aia.
So post the aia or send it to me via PM.
I took a look at your aia. Your app has 17 screens. It should usually be no more than 10.
I haven't tested your app. But maybe READ permission is no longer automatically requested on the test server (targetSdk 31).
So request this permission manually (e.g. in the Screen.Initialize event):
Build the APK, try and let us know ...
Thanks. The permission works now, but I have another problem.
The signature key seems to be changed from last build i did with ai2-test and google play refuse a new release. The app is published as internaal test and seems non possible to delete and make a new one.
Whai I can do ?
Which component does no longer request READ permission (automatically)?
Export the keystore from the AI2 server and
import it on the test server.
Set the versionCode to n+1,
build the AAB and
upload it to the Play Developer console as an internal test track.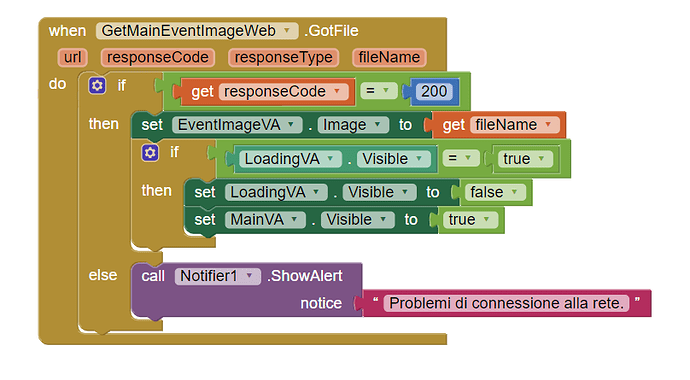 These are the blocks generating the error. I suppose in writing the downloaded image file to filesystem