Hello,
I've built an app that lets you make folders and take pictures to save in these folders.
That part works but I'd like to Zip the folder to be send via Email.
This is where I've hit a problem with Taifunzip.



Thats the app's mainfolder and a created / project folder.
I use that Directory plus the /Storage/emulated/0/ as a directoryname for Taifunzip.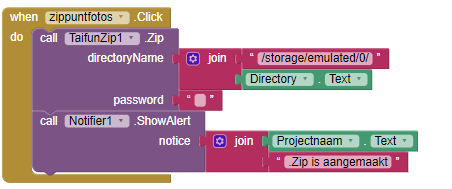 But when I do this it tells me the directory does not exist.
I added a test button to show me what the directoryname is



And that shows me: /sotrage/emulated/0/Mainfolder/Projectnaam
On the phone this is where they endup:


any help would be greatly appreciated