It runs well now


Awesome! Glad to hear it's working the way you want!
@patel
This is how I found refreshing a matched set of TV has to be. It works perfectly.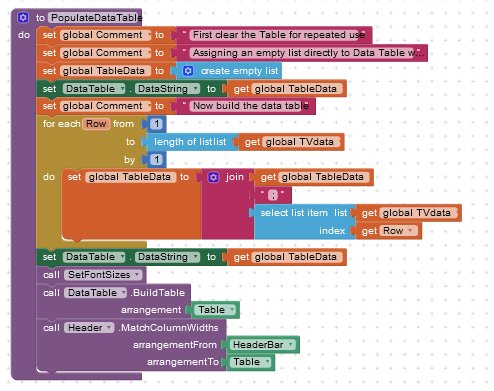 First, you need to set font sizes in both tables (I did that prior to calling this module)
Then you need to clear the data table (not header) and reload it.
I set the font sizes again after reloading because this module is called by screen initialization (doesnt hurt to do it twice
Then you need to rebuild the data table to the container (Table)
Then Match the TV you use as the header to to the container
I found this to be the most rapid way to refresh the TVs. I allow the user to set font size up or down and they are free to do it rapidly if they want. This method repaints very quick for me. Hope this helps.
BTW: you cannot assign "create empty list" directly to the TV, tried that and dint work


Strange but you must assign a global list that is empty to it and it works fine.
You should use a clock timer to set the matching headers, this gives both table displays the time needed to format and display correctly.
After some changes, I don't remember which one, this error appears, what can I do to understand what it depends on ?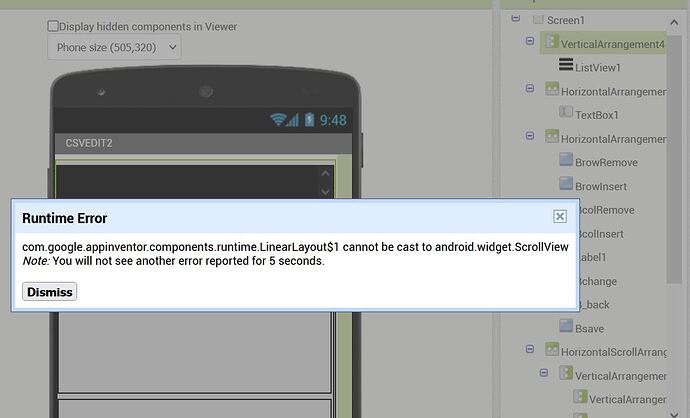 You will have to debug by undoing the changes one by one til you find it

I tried without success, can you explain me what does mean that message ?
Exactly what it says. You are somehow trying to set something in a linear layout that cannot be applied in a scrollview. Seems you may need to undo more changes....or revert to your previously working aia project that you saved....
Is it a code problem or design problem ? despite the message the app runs well with companion
I don't have a crystal ball or some X-Ray specs about my person at the moment

It would be really good if you can add custom font type face option
The error states that you are using a scrollarrangement while it is needing a normal arrangement
Solved, I'm using 2 clocks, they were enabled by design, when disabled no more error.
Hi Ken, can you attach an aia with first column and first row not scrolling ?
I do not believe it is possible to set 1st column not scrolling, just 1st row (header)
Maybe the Ken magician could do it
Can We make a Table like this: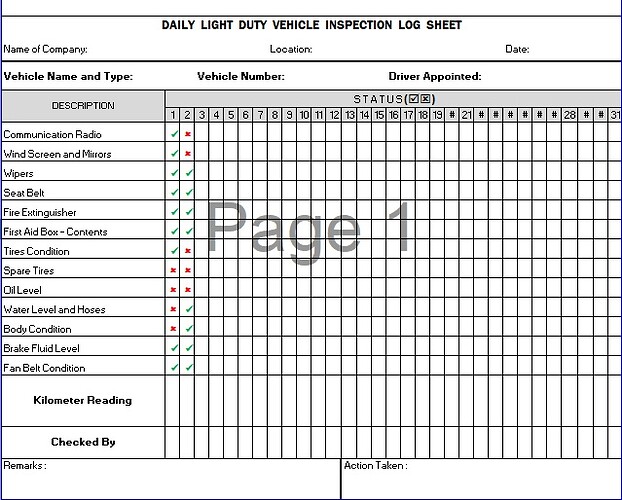 It's a log sheet of daily vehicle inspection in a month. and Data can be acquired using regular components and stored in tinydb for table creation and pdf generation. After table I want to make it in a pdf format. Please guide if is it possible with your extension or should I use something else. But I also need pdf. Thanks.