Hello there!
I am currently doing a personal project for school and I have decided to create a finance app using MIT App Inventor 2. I am almost done with the app but one of the things that I have problems implementing into the app is ranking the categories the user is spending on the most based on their inputs so that the app can show a message to the user on suggestions on how they improve their spending habits. I planned out how I could achieve this and pieced together a rough plan of how it would work.
The app calculates the budget and actual amount of the user's expenses for each category, it will make a list of the budget and actual amounts for each category.
The app will then find the differences between the actual amount and budget amount for each category.
The app will then rank the list from the smallest to the largest differences in budget and actual for each category.
The app will then take that ordered list of categories and insert it into a temporary database.
The app will then turn the differences in each category that it represents (Home Expenses, Utilities, Food, etc).
The app will then display the text from the database into the notifier that will pop up.
However, so far I have only coded until number/step 4 but some for some reason, the app constantly gives me the same error message every time I tested it after trying countless times. It says "The operation length of list cannot accept the arguments: , [nothing]". I would really appreciate it if someone could kindly take some time to correct my blocks ASAP.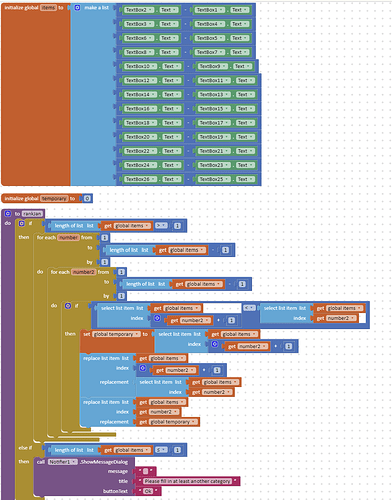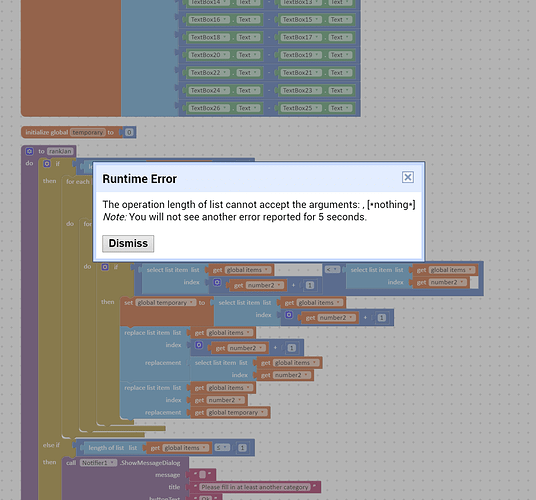 If someone still has time, could you please teach me how I can achieve step/number 5 on the list?
Thx :)!