Yes, this works with Kodular (with the full path: file:///storage/...)

Yes.
Hmm, but can my extensions work on ai2?
I'm sure it can because before I published this extension I tested it up to 23X on AI2 and the results worked

@Anke as requested, attached screenshot from my laptop of 2 x photos taken on my phone and exported to WhatsApp using SharingTools.ShareMultipleFile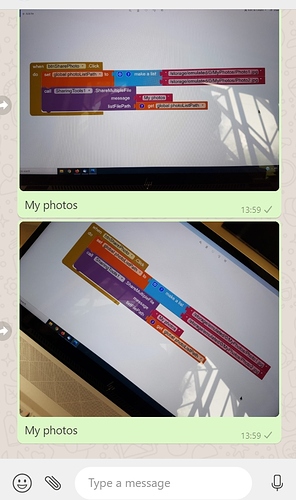 Check it for the 24 times (with Companion, because the app didn't ask for WRITE permission):
shareMutipleFiles2.aia (749.1 KB)
The images are copied from the assets to the paths in external storage: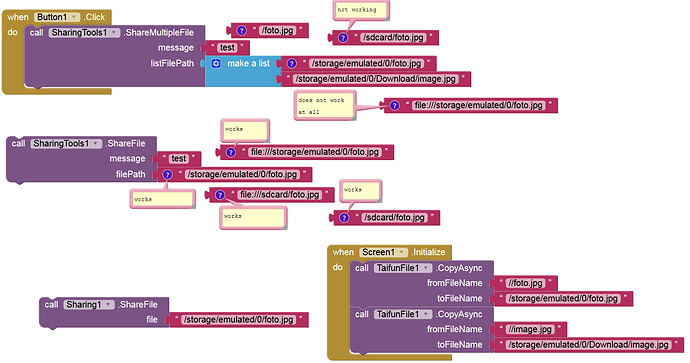 so if you have tried with that permission and succeeded?
Okay, so have you tried images that are not copied from assets?
Strange, because it doesn't work on my test devices, also not on 2 Samsung devices (Galaxy Note3 / Note8, Android 5 and 9). I've now tested it on 5 devices. So as I said there is something wrong.
Maybe the problem is that you copied the image from the asset.


You should try to send the image but it is taken from your gallery
or send a file but taken from your storage.
because I believe the problem is you use the taifun extension to copy the image from asset

As I said it works with the full (absolute) path:
file:///storage/emulated/0/foto.jpg
with Kodular,
but NOT with AI2.
Btw, as I also said before, there is no problem with filePath:

Okay, then have you tried my SendMultipleFile without using TaifunExtension?
OK, I'm feeling confused but I'm sure my extension is working because I've tested it on my phone and it works.
My Phone :
Asus Zenfone 3
Oreo
8.0.0
API level 26
No, I tested it again on another device (Huawei P20 lite, Android 9). Doesn't work.
(This is already the sixth test.)
I have 10 more test devices, but it's getting boring. And for me, one test is enough to know that it doesn't work or that I won't publish my app then.
Real Device or Emulator?
I'm sure the emulator won't work with my extension
And Kodular is different than AI2
Please ...

OH Mam... i dont understand

I think all the necessary has been said:
neither with Companion nor with the APK.