Hello friends,
In 2017 I released an old extension to use a TinyDBX, similar to TinyDB.
With this extension we could have different TinyDB through the "Pretag" property, similar to what is now "Namespace".
Furthermore we could easily save and retrieve TinyDB by saving it in a file in the SdCard.
https://groups.google.com/forum/#!searchin/mitappinventortest/tinyDBX|sort:date/mitappinventortest/7n0CPHIfZSc/BoebXhvYCAAJ
We are going to use that extension to save our TinyDBX in CloudDB and SdCard, then retrieve it.
Note that we will save the entire TinyDBX with a single tag (in this example: mytinydbx).
Notice that I have used Spanish characters: Ñ, ñ, tilde …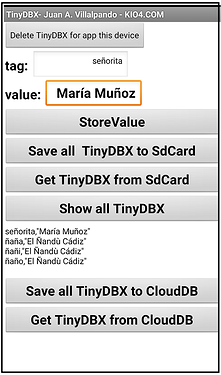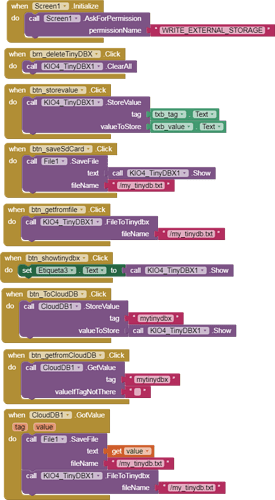 p257B_tinydbxCloudDB.aia (17.1 KB)
Here extension:
http://kio4.com/appinventor/257B_extension_tinydb_diferentes.htm
Regards,
Juan A. Villalpando.