I Hope in 1.2.0+ 32 bit is supported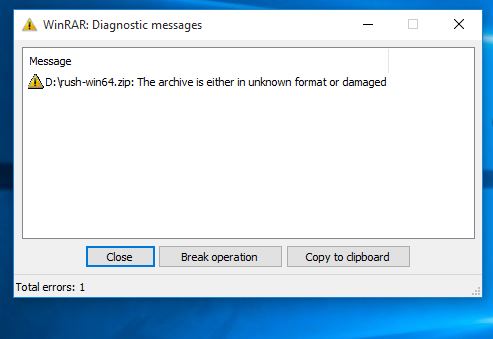 Don't know why but archive is corrupted. I tried 3 times but same error.
Edit - If anyone have it then please upload here or dm me


Can you try extracting it using something like 7zip?
Kumarswamy, can you check if a directory named .rush/dev-deps exists in Desktop/Codes/Rush.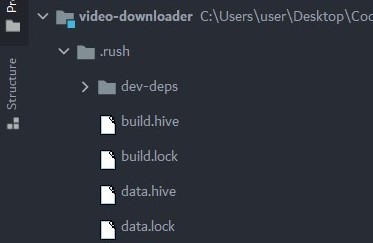 Creating a new project works in other folder but this dosent.
Edit: My mistake i was on the wrong dir
Hi Shreyash, my extension uses a library (.jar) file which has AndroidManifest.xml in it. So, will the manifest file be compiled with it or I should manually add it to the project's manifest file?
You'll have to add required manifest tags manually to your extension's AndroidManifest.xml.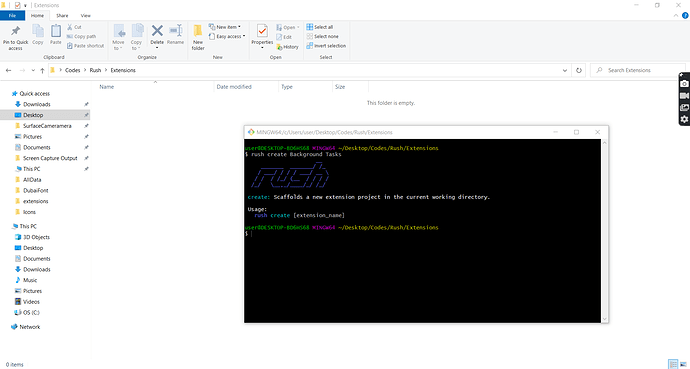 Hi Shreyash, here is a bug. When I type the command to create extension, this alert message appears even when I am in different directory. I got this bug first trying to create extension with same name with different folder when I got this alert message and now I am in different directory but still the warning appears.
edit: solved by removing space


. But I remember it working with space
Nope, it's not a bug. Extension name can't contain spaces.
Yes, you'll have to add it to the AndroidManifest.xml.
Rush 1.1.0
---
What's new
---
Building extensions is now almost 1.5x faster with Rush! Yes, you heard that right, 1.5x faster than previous versions! Don't believe me, give it a shot yourself and feel the speed.

Want to port your old extension(s) to Rush but fear rewriting those huge manifest annotations? No worries, I got your back. Introducing the migrate command! Simply run rush migrate in your extension template's root directory and let Rush do the rest of the work. Learn more here.

You can now install Rush using the Rush installer -- rush-init. It's not a full-blown installer and yeah, there's still a lot of room for improvement, but hey, it's better than nothing.
Bug fixes
---
The notorious "no extension in the out directory" bug is finally fixed (hopefully).

Some Android manifest tags weren't being added to the application's AndroidManifest.xml when using Kodular. This issue is now fixed and you should be able to use all the supported manifest elements without any headache.

Previously, aliasing the rush command and then trying to create/build an extension would throw some weird errors. This is no longer the case and you'd be just fine aliasing rush command to whatever you want.

The -s (--support-lib) flag used to generate the support library version of your extension even if it didn't depend on any of the AndroidX packages. Now, Rush will warn you when you unnecessary pass -s flag.

There was this little bug that would create a directory named .rush if you run rush build in a non Rush project directory. It is now fixed.
Internal changes
---
Rush now no longer depend on Apache Ant to build your extensions. All the compilation, optimization, and packaging are now done by Rush itself.

Tweaked quite a few other things that are either too small to notice or too tough to explain. All you need to know is that Rush is now much more stable and faster than it was before.
Installation
---
To install, as well as to update, follow the new installation instructions:

---
I hope this update will make extension development a bit more easier and faster. If you face any issues, as always, create an issue here on GitHub or just leave a reply on this topic. I'll try to respond ASAP.
Cheers,
Shreyash
In rush.yml,
how do I enter a multi-line (and/or formatted layout) to description: at the top of the file ?
You can do it like this:
description: |
  This is 
  a multiline
  text...
Got it...

Hmmm
Not quite what I meant:

should display as
This is
a multiline
text...

Try to use the <br> tag and try if that works.
Example: This is <br> a multiline <br> text...
Ah, yes. As @Kumaraswamy mentioned, you'll need to add line breaks (<br>) for it to display like that.
Edit: I'm not sure, but maybe you can use \n as well to add a line break. Correct me in case I'm wrong.
OK. This works
description: This is<br>a multi-line<br>text...

but this doesn't ?
description: This is<br>
    a multi-line<br>
    text...

This just prints out as it is, including the \n
description: This is\na multi-line\ntext...

This doesn't work either...
description:  |
  This is<br>
  a multi-line<br>
  text...