Da un pò di tempo ricevo continuamente dei bugs
Please give more details? What type of bug? Where'd did you get it? When did it arise?
Screenshot ?
Non capisco sembra tutto normale senza errori ma mi viene segnalato continuamente dei bugs, non riesco ad inserire nei blocks. poi non capisco perché mi viene indicato in rosso dele account
Problem is still not clear, please describe it more, there is all left is to work on assumptions,


Are you concerned about block not matching?
Nepure io che parlo l'italiano ho capito il tuo problema, se vuoi aiuto devi spiegare meglio, magari allegando le schermate di errore.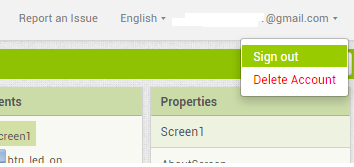 Delete Account is a new menu option.
http://appinventor.mit.edu/ai2/ReleaseNotes.html
Scusami ma non ho capito bene quello che devo fare. Sono bloccato come l'immagine allegata sopra, se voglio fare delle modifiche al progetto mi segnale dei bugs, ho provato a cancellare tutti i progetti, ma ricevo sempre questo invito a chiudere l'account. Ho pigiato il link suggerito ma come detto prima non capisco, devo fare qualche aggiornamento? oppure altro?
Grazie per la pazienza.
The window with the red text "Delete Account" pops up automatically?
Send a screenshot with the bug.