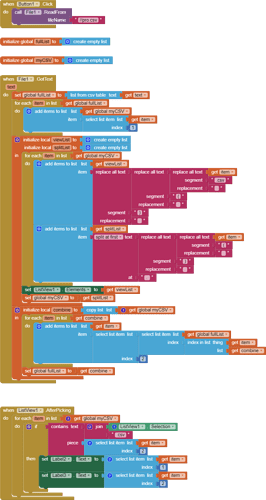 Pro.aia
(6.1 KB)
Is this a question or an example ?
This is a question my Sir
What do you mean by without .csv?
I mean that I just need to show only the data in column one in the List Viewer:
132
133
134…
But when I select any item in List Viewer it give me value for the second column with .csv correspondingly
d118.csv
d59.csv
d58.csv
d68.csv
d69.csv
d70.csv
d71.csv
d72.csv
d73.csv
d74.csv
Ok I think this is what you were looking for: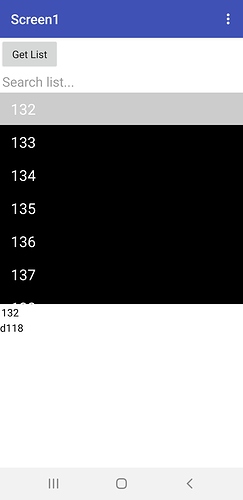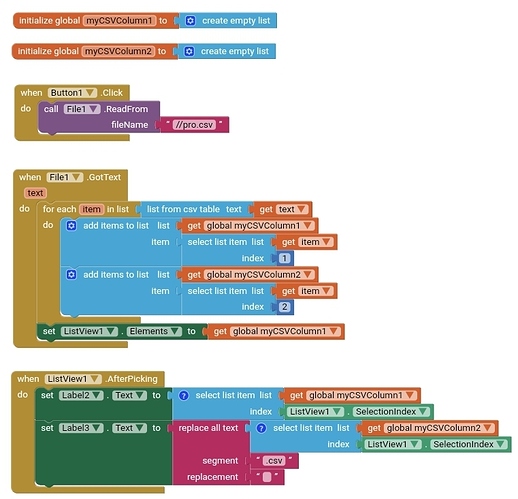 Pro.aia (3.5 KB)
Yap…
Thank you so much Ken for help.
Good luck!
Hello Ken,
I am trying since last night to understand how you have done the work in order to make the same thing in my project but I couldn't do it.
Please have a look to my project and please tell me how to remove the first column in the List viewer that contains:
d1.csv
d2.csv
d3.csv
and I just want to show
level 1
level 2
level 3 …
But I need when select any item from the list view it give me the first column and second column like this:
d1.csv
English
I am sorry to noise you since last night.
Thank you so much Ken for help me.
Project1.aia (5.8 KB)
I think this is what you are after…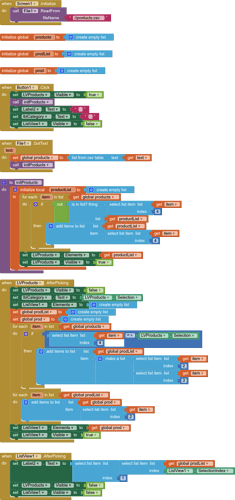 Project1v2.aia (5.5 KB)
I have generated the subject list from the products.csv, instead of using a seperate list (avoids, duplication and ensures the items are contained in the list). I had to use global variables to create an intermediate list, in order to ensure that the list lengths were the same when switching from "levels" to "d*.csvs".
That is really a wonderful and much more better than before.
Thank you so much Tim and best wishes.
This topic was automatically closed 7 days after the last reply. New replies are no longer allowed.