are there any Radio Buttons in MIT App Inventor? I cant seem to find such a component!
example:

Currently Radio button is not a part of App Inventor but maybe in future you will see it in App Inventor because in GSOC-2021 @Hardik_Thami worked on it.
Oh that's nice
but wish it was a part of current app inventor!
Note: Hossein's extension was originally on AppyBuilder. The link is no longer available but you can use the advice to make your own RadioButtons from CheckBoxes.
You can get it here on the community:
Also, if you want to use checkboxes:
Here is a simple example, with radio buttons that behave as such, no extension required:
RadioButtons.aia (144.2 KB)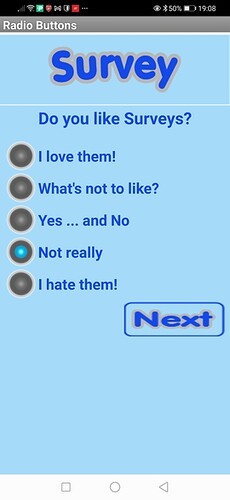 This topic was automatically closed 7 days after the last reply. New replies are no longer allowed.