How to set an arbitrary package name for App Inventor app ?
Example com.peppe.app123
The easiest way is to use this offline version: https://sourceforge.net/projects/ai2offline/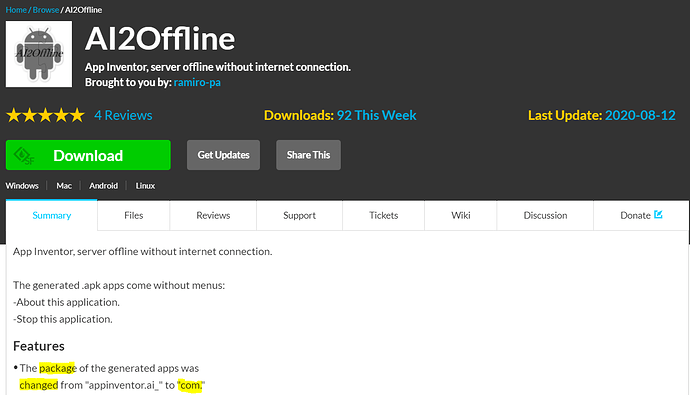 The package name will then look like this (in my case):
com.bodymindpower.appName
However, you should still wait for the nb185 release.
Thank you very much for the advice
Actually this is also a pre-wired "com."
To have a truly customized package name perhaps the previous procedure is better
Yes, the packageName always starts with "com.".
However, changing the packageName after decompiling the APK is not that easy. You have to be very careful because if even the slightest mistake happens, the app will not work or it will crash.
Hello Dears , i need some help from you related to while im going to upload APK file for new release for an application already in production months ago ,i have this message "Your APK or Android App Bundle needs to have the package name com.test.SphinxGlassMaintenanceTeam."
and i dont know why while there was no changes on the app names , could you please advise ?
thanks alot
Afattah
If your app is already released on Play store, you can't change package name.
I really Don want to change the package name but I have this message I don't know why?? (your APK or android app Bundle needs to have the package name Com. Test. Sssss


did you use another builder to build your app? probably an offline server?
The package names of MIT App Inventor apps always look like this
appinventor.ai_<LOGINNAME>.<PROJECTNAME>
Taifun
---
Trying to push the limits! Snippets, Tutorials and Extensions from Pura Vida Apps by

Taifun.
can you explain more pleas ??
your question is unclear...
Taifun
Hi, is there a chance that using this offline version some functions of the app could be lost? Something changed with the nb185 release?
Thanks
the latest release there is nb187b, see also https://sourceforge.net/projects/ai2offline/files/
just test before uploading to Google Play...
and especially for working with an offline version remember to backup regularly... see also http://twodogapps.com/?page_id=686#BackupWork
Taifun
---
Trying to push the limits! Snippets, Tutorials and Extensions from Pura Vida Apps by

Taifun.
Oh great, I didn't notice, I downloaded it some months ago.
Okay thank you Taifun! I'll give it a try.
I have multiple compile errors.
After what was tried? What are you talking about?
what about providing more information?

Taifun