...that is on a PC. It's a program I wrote to create a List Block rapidly.
A basic example
popupTooltip.aia (32.4 KB)
(Image is only click, not long click - but it can be a long click)
I think that's a clever idea. It is ugly though, and how would the User know to use a long click?
My work-around is for the Splash Screen to be an image of the GUI with tips in place: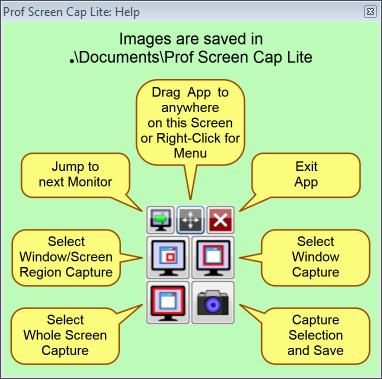 ..... but that's not at all good for multi screen, nor Apps that support multiple languages, in which case I have an image of all buttons with a description beside them as a Help screen: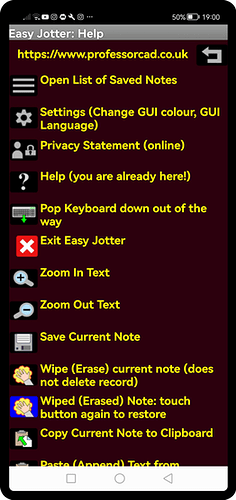 Still not as good as 'real' tooltips though.
The popup extension will allow for images to be displayed, and actions on selection (if required...)
No more ugly than yours

Tell the user to long click for a tooltip

There is still a need for genuine Android tooltips - other platforms not based on AI2 have them.
What about trying to create this extension while using the new tool by @MohamedTamer ?
Taifun
Thanks for the mention @Taifun!
Since the Beta Version of Rapid isn't yet available for everyone so far ( the beta testing program hasn't started yet), so I've created the extension using Rapid:
io.mohamed.tooltips.aix (4.4 KB)
The blocks are fairly simple:


Hi Mohamed
The aix is easy to setup components, but how is the display of the tooltip triggered? I'm thinking it will only work on a tablet, using a mouse.
Long press, set blocks in Screen initialise, not component specific blocks needed

Tested Companion and APK, Android 10. Nope.
Tested companion Android 13. Yep. (not for label though, with a click extension, but when using chromebook emulator, the mouse hover works for the label - and the other components, whilst a long press does not, for the label)
Not quite with you Tim - Looks like you wrote that post whilst riding a horse

Do you mean that a long press works for buttons on Android 13? I have only tested Image Buttons but I think they are the components that most need a tooltip.
Think I may prefer the popup menu approach with long press, offers more options/potential - images/colour selection for background and text/html text formatting/checkbox(!)/click through action.....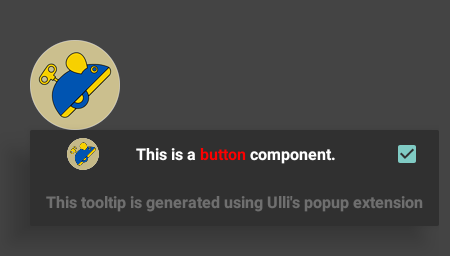 [edit] I asked Ulli, and he kindly updated his popup extension to include the dismiss method (may not yet be published), which means you can use a clock, with your chosen duration, to dismiss the popup programmatically.
That is fabulous!
If only App Inventor allowed text to be placed on the button Image, so that a tooltip 'speech bubble' could be made.
App Inventor Buttons can have both images and text, so I'm not sure what this means?
Sorry Evan, some time ago now I tried to have text on top of button images without success. That seems to be fixed, which is great, but testing just now it's not suitable for a balloon style tooltip. The position of the text is, naturally, in relation to the button and not the image.


It would be more work, but if you put the button inside of an arrangement and used the arrangement to provide the image and then set the alignments to move the button that could work.
Sounds interesting, I will put it to the sword.
What happened with Bluetooth Classic being updated? There was no mention in the Release Notes. Also the BLE extension not having the requisite permissions?
The only change was that a new property, PollingRate, was added to support integration with Charts. However, when we bump a version number we're supposed to write the upgrader to apply any changes to existing instances. In this case, adding a new property is trivial--nothing changes but the version number--but this wasn't handled correctly in the designer case. Interestingly, we do have the code in place for the blocks editor so something must have been lost in a merge.
Extensions are updated independently the main system. We will need to release an update to the BLE extension and anyone on Android 12+ will need to upgrade their extension.