I am trying something a little different that may not even be possible, and came across something I cannot figure out.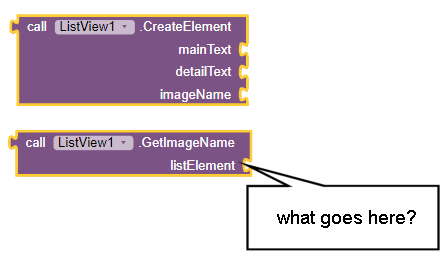 No matter what I try I cannot find a block to fit in this section. I am trying what makes sense to me, the ListView Selection block for example but nope..
I am trying to use the ListView create element block in a way that it probably wasn't intended, but if it works it solves a problem for me. I am wanting to store a number in the imageName section of the CreateElement block. It was designed to store the filename of the image uploaded, so why cant that image name be a number..
Once clicked/selected on the list, I am trying to retrieve that number and if I can get the GetImageName block to work, then Bob's your uncle.. I am done. Only I cant figure out how to use the block.
I'm just trying to be creative here..