Hi All,
Am here to introduce you to a very special extension, its called the Layout Sheet Extension.
Using this extension you can create Top Sheet, Bottom Sheet and a Center Dialogue.
There are 3 gravity options in this version, top bottom and center and 3 sub gravity options : center, left and right.
The extension is completely free to use but decompiling of the extension is prohibited and would not be appreciated. You are free to share the extension with your friends via community or local trasfer so that it can help them too!.
I would be amused to see how you have used this extension, you can tag me in your post to show your love towards my work.
This is the second version of this extension and many more updates are yet to come based on your suggestions, do help me in improving it by adding up your suggestions here.
It currently offers 6 blocks blocks as shown in the image below :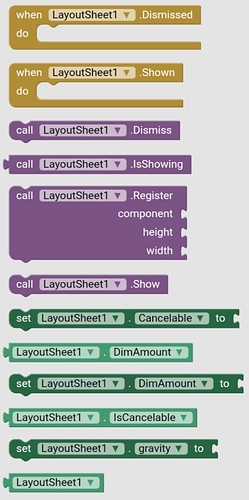 Example:-
For docs you are refer to https://docs.xyberneo.com/topsheet-extension
Open Source ?
Indeed, it could have not been possible if i was making it alone, we made it together and its " our work "
The Link to the git hub repository can be found attached below, contributions will be appreciated
Further Attempts
Our next target is to add animations to it, that could be a part of version 3, you can always suggest us the animations that you wish to see in it.
Invite
I invite you on behalf of all of us to contribute to the extension and join our group, the link to the git hub repositor is attached below
Repo : https://github.com/XyberNeo/TopSheet/
To download the extension please head to this link : https://www.xyberneo.com/Extension
Other Resources:-
topbar (1).aia (10.5 KB)
Best Regards,
VSatish.