So, I wanna make a virtual world with a maximum of 12 players playing a once, it will also have a chat system, and the players will be represented by balls, 1 ball representing 1 player, so, here is how I want it to go.
When the game is opened, the player can tap a button, this opens another screen where they can enter a username, then another that allows them to pick the color of their ball, and then the game begins, there will be 4 buttons, allowing the player to move in 4 directions, forwards, backwards, left and right, and a textbox allowing them to chat, if you want to see a concept, here it is: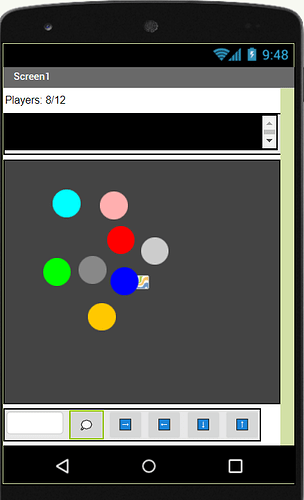 this is the concept opened up in mit ai2, there will be a player counter, a listview to show chat messages , a textbox to type in a message, a button with

emoji will send the message you typed in the textbox, and 4 buttons to move your ball in one of the 4 directions, does anybody here think this is possible, can anybody give me a tutorial? I just want help, please












, or is what I want to do way too ambitious and impossible in AI2?