I'm trying to use Serial to communicate to an Arduino with my phone. The basic idea is to send integers to the arduino based on which it will do certain actions.
This is the code I made to test if it works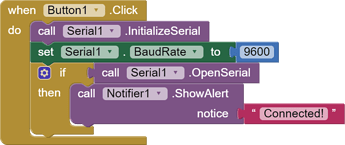 When I click the button I get this error


Error Text:
edu.mit.appinventor.aicompanion3: Targeting S+ (version 31 and above) requires that one of FLAG_IMMUTABLE or FLAG_MUTABLE be specified when creating a PendingIntent. Strongly consider using FLAG_IMMUTABLE, only use FLAG_MUTABLE if some functionality depends on the PendingIntent being mutable, e.g. if it needs to be used with inline replies or bubbles.
I'm not quite sure what to do here. Any help/advice is appreciated.