Hello everyone
Today I'm here to share a cool tool that I have made mainly for extension developers, It allows you to create and host documentation of your extension that you make for Appinventor and its distribution, in a matter of sec. All you have to do is upload your extension and the web app will do the rest. Try now
Link: https://cttricks.com/extension-docs/
If you have any suggestions or queries related to this! feel free to write in the comment below. Also if you like this don't forget to hit

button.
---
Updated the Extension docs tool 24th AUG 2021 | Version 2.0.1
Now create and host the documentation of your extension without writing a single line of description. Just upload your extension and it'll be written in few seconds also the link will be there to share it in any app developer's community.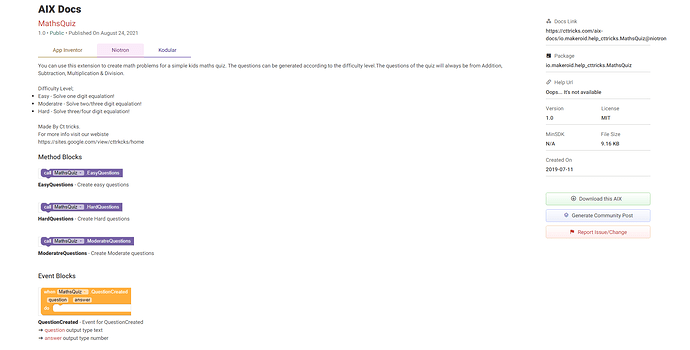 As every extension developer faces a common problem of writing docs on each devs community and attaching blocks screenshots according to that. So here you can generate the link to your extensions docs with complete documentation in one click.

From AIX-Docs users can easily take a detailed look and understand the working of your extension. Especially to the inputs and output of Methods, Events, and Properties Blocks.
On top of that., if you want to write the docs in any particular app developers community! Simply click on Generate Community Post and the entire docs with details and Blocks screenshot will get copied to your Clipboard. Then you can simply paste it and create a new topic in the community. Also, you can download and report issues if you found any.
Click Here to generate your own extension docs for free.
---
Also big thanks to @Taifun for creating an amazing collection/directory of all extensions published on app devs communities. I have added the link to this extension directory too.
---
The AIX-Docs is still under development, if you have any queries or suggestions feel free to write in the comments below. And if you like my work and somehow it makes your docs writing easy, do hit that

button.