Version 1.0
Recently, I learned Geometry and Circles, their radius and diameter calculations. I thought why not make an extension to calculate from radius to diameter and from diameter to radius! Well, I created one. It can be replicated by built-in blocks provided with MIT App Inventor...
---
I just made this to make things easier for those people who do not know how to calculate radius and diameter.
---
IDE: Niotron IDE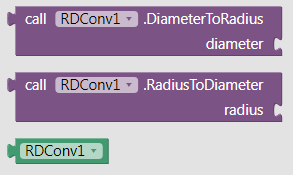 ALL BLOCKS WILL ONLY SUPPORT MATH BLOCKS! (DOUBLE)
Download:
RDConv.aix (5.1 KB)
Extension demo within an app:

Demo app AIA Download (USES RDCONV EXTENSION):
radiusAndDiameter.aia (9.5 KB)
---
Further improvements are always welcome! Suggest any kinds of ideas!