Hello everyone,


Here's my new extension, EternalApp !
If a user tries to uninstall the app, it will show a prompt that -
Keep XX.XX KB/MB/GB/TB of app data.
Unfortunately, It just works till Android 10, not higher than it.


And I cannot share screenshots as I don't have any Android 10 device.
A pic from google -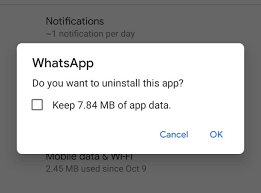 Simply drag and drop the extension in the designer and that's all ! (No blocks)
Extensions

com.rapid.aquibkhan.eternalapp.aix (4.0 KB) [V1]
com.rapid.aquibkhan.eternalapp.aix (4.1 KB) [V1.1 Patch Update]