Hello AppInventors,
Today I am here to present you my first extension in MIT community, Animated Gradient Extension through this extension you can animate your layout with gradient animation.
Demo:-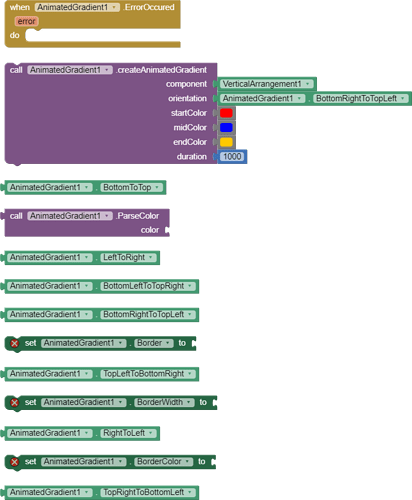 Blocks And Usage
Here comes 1st block, it is the main block which allows you to create animated gradient effect

Parameters:-
component:- Provide any component which is to be made with animated gradient
orientation:- Provide which orientation is to be given (Already Included in the extension)
startcolor:- Provide color at start.
midcolor:- Provide color at Mid.
endColor Provide color at End.
duration:- Here duration means the speed of the animation (should be in millis).

Here is the usage
Here comes the second block, which parses the hex color if you want hex color instead of inbuild color blocks

Heres the usage:-
Here's third block, which will be used when an error occurs:-

You are familiar with this block
Here are the remaining orientation blocks:-

ORIENTATION:-
Designer Menu Items:-
Download:-
OR
https://store.logicaldevz.xyz/animated-gradient
NOTE: In some cases when you test it in companion i will show an error like below:-

But do not worry in the final apk it will work fine
OFF TOPIC
You will also get updates for this extension. You can also tell me which blocks should be added and sights for improvement. Any suggestion will be appreciated.
Special Thanks To:-
@oseamiya
@Know_About_IT
@PRATY_PROGRAMME_S_LA
@Shreyash 's Rush
Regards,
Akshat