I already know that I can use the Screen.ErrorOccurred block in order to prevent an Error 1101 message (Unable to get a response with the specified URL) from being displayed.
This is working so far, but when there happens to be an error inside the Screen.ErrorOccurred block, the original message including the full URL shows up nevertheless! This will be an app security issue if the URL is containing secret credentials.
I created the following example:
When I do a Web.Get call and an error occurs, my user-defined message is displayed. But if I intentionally provoke an error within the Screen.ErrorOccurred block, the full URL and therefore my secret credentials are displayed to the user.
My question is: How can I 100% protect the full URL from being displayed? You know, I can't rule out with certainty that there might occur an unforeseen error within my own error handling procedures.
ErrorOccurredError.aia (2.1 KB)
Here are the blocks of my example. An unforeseen error happened inside Screen.ErrorOccurred: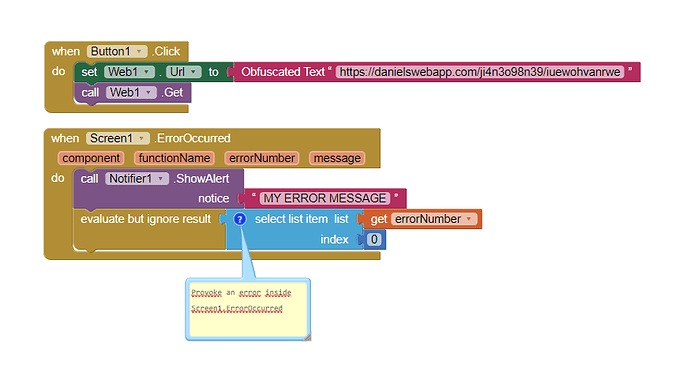 Normal behaviour. Just show the my user-defined message:

If there's an error, the full URL containing secret credentials is being displayed: