I have connected two devices using the NRF24L01 modules and the last one sends data to an APP via serial port using the SerialOTG extension. Frequently the indicated error appears and I don't understand why. I am sending a string of data with the following format:
sprintf(buffer,"%s,%d,%c\n",bufferTime,statenum,Base); bufferTime string , statenum int , Base char.
If I see it in the Arduino Serial Monitor it looks perfect, without errors or strange texts.
However, from time to time this error appears in the app.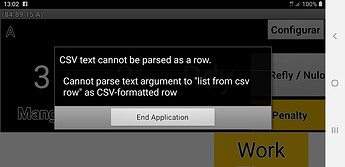 I sow you the reading sequence, previously the port has been started and opened , I do not see problems in the connection.
The driver that indicates that are using the phone:
com.physicaloid_ai.lib.usb.driver.uart.UartCdcAcm and the micro board needs the CH343SER driver to connect to the PC.(This is completely unknown to me, but could it be the origin of this error?)


I would appreciate any ideas, thanks in advance.