Hi, I am trying to create an application that allows to download a file and view / read / play it. In this example I try to open a downloaded pdf with a pdf file reader that I have on my device through ActivityStarter, but the idea is that it can work with an image, a video or audio file or any other file.
Currently, pdf files are downloaded to the device, but I cannot open them with the corresponding application.
The biggest problem is that I don't know the name of the file I'm going to download, so I can't use a specific path to that downloaded file or its location on the web page. So the idea is to open / read / view "the downloaded file". In this case, as it is a pdf, with a pdf file reader.
I attach the .aia file and an image of the blocks in case you could help me. I also add some unsuccessful attempts.
Thanks.
AIA BLOCKS


OTHER INTENT 1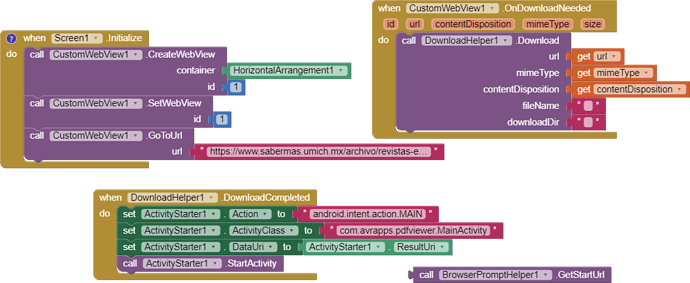 OTHER INTENT 2