Hi,
I trying to do a simple graph using the Chartmaker extension, but something is wrong

as I get the following message:

I get some data (temperature and humidity) from a DHT11 through a BLE: It is sent with a ";" separator that allow me to split it in two (first I remove the [ and ]). I manage to display the values in some label zone (label7 and label8) and event do some mathematics in it.
For now I m just looking to X-plot the 2 values (yes it is stupid ... -> the plan is to add an time ID value latter and to append the just received list to the old one to get more than 1 couple of value and have a small historic )
here the part where all is setup: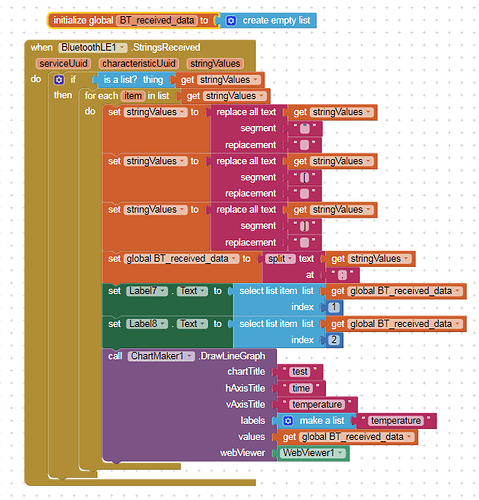 I m pretty sure it is a stupid thing (I hope so!), but cannot figure out.
here a topic that helped me a bit
(https://groups.google.com/g/mitappinventortest/c/S3tw7gSGE8A/m/D8DFWJQrBAAJ?pli=1)
by advance thx for your help!