Introduction
This Extension returns Call Logs based on their Key.
This Extension only works when compiled as an APK. It does not work with the Companion.
This extension is the result of a collaboration between @Salman_Dev and @Leul_Melaku.
The extension is distributed and maintained by @Leul_Melaku.
Created by @Salman_Dev
Idea by @Leul_Melaku
Blocks

Usage
The first thing you have to do is ask for permission,
when permission is granted then you can run the extension.
Permission Name : android.permission.READ_CALL_LOG
Example Blocks :

Second, if you want to run the extension,
you have to put the (call CallHistory1.Get) Block into the (for each item in list) Block ,
Because (call CallHistory1.Get) Block returns a list.
For Example :

After that, the item to be given contains a YailDictionary,
so you have to retrieve the value from within that item using a key.
Available Key :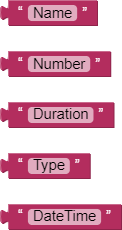 Example to get value from item with key :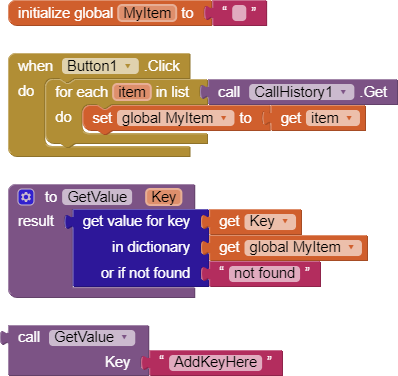 If you want to retrieve the value from the "Type" key you have to do this :
Because the value to be returned from the "Type" key is a constant value.
look at the constant value here :
https://developer.android.com/reference/android/provider/CallLog.Calls#TYPE
To retrieve the value from the "DateTime" key with the date & time format you want,
you can set it using this block :

Download
[com.Leul_Melaku.CallHistory.aix (7.9 KB) ]
[Example1.aia (10.4 KB) ]