Digging up an older post here.
I have an fairly well established app (getting there) and I'd like to introduce a splash screen using the above method which makes complete sense in simple terms.
My issue is this:
My main interface is held in a vertical arrangement. I make this not visible by default and the splash screen visible by default. Once an image has loaded within the hidden vertical arrangement (actually, a horizontal arrangement within the vertical arrangement), I make the splash screen canvas not visible and make the main vertical arrangement visible.
Problem is - not all of the elements held within the main vertical arrangement re-appear. The most noticeable omission are all the buttons. None are appearing. And similarly, the code I use to close the splash screen canvas is a display image routine - it works to make the splash screen canvas not visible, and make the main screen arrangement visible, but the subsequent image is not displayed.
There is a switch element and text in the hidden arrangement that becomes visible, but these appear as expected. The switch operates and executes the appropriate code.
These are the primary blocks:


I also have a screen setup routine which sets the screen up as follows: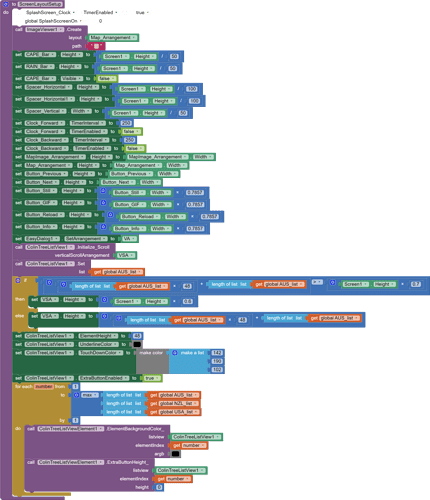 My initial thoughts are:
If the main screen vertical arrangement is not visible, does that have some kind of impact on the way the screen setup routine works? Particularly to do with the buttons which do not reappear?
Perhaps the ImageViewer extension needs the element it uses to hold the images to be visible as part of its operation? This is that extension: