AI2 Tools Bundle
A bundle of all App Inventor tools you can imagine!
Version 1.2
---
Introduction
I have created a "shortcut" extension to quickly get app development done. You can click each button to directly go to that site.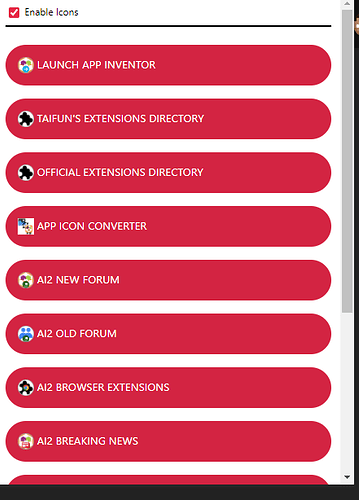 You don't need to hunt for almost all AI2 links anymore, if you use this extension!
---
Installation
I hope you understood the meaning of this extension.
--: : :--
To install the extension, you have to download the ZIP file.
Download link: Click here to go to the 'Downloads' section!
--: : :--
Let's go to the next step!
You have to extract the ZIP file to a folder.
Next, go to the sidebar menu in your browser and click on 'Extensions'
NOTE: Some steps might differ!
--: : :--
Toggle the 'Developer Mode' switch
--: : :--
Click on 'Load unpacked' and browse for the extracted folder.
--: : :--
Click the 'Extension Refresh' button.
Now it is installed
---
Usage
Pin and click the extension icon. Click any of the buttons to open the appropriate link.
A page will open on a new tab.
---
Downloads
Download link: Click here to download (I promise it's safe)
---
Update
Uninstall and reinstall it with new version
---
Tests
Tested on Brave browser, Windows 8.1 (should work on all operating systems and browsers)
Tested on MS Edge
The extension is guaranteed to work with Firefox and Opera.
---
Source
This extension is open-source.
Right click on the ZIP file, extract it, open the extracted folder, and you will get the source code!
---
Credits
Credits to everyone who has provided the links.
Credits to myself and my brother for building the rest.
Credits to myself for designing the icon.
Credits to @Alireza_Sharifi for designing the button icons.
---
Thanks. Please reply if you need any help!
---