Hi all,
I am not sure if it's decent to open a new topic about using an old one of:
ESP32. WiFi. WebServer. LED on/off. Static IP. Soft Access Point - Tutorials and Guides / Internet of Things - MIT App Inventor Community by Juan A. Villalpando. thanks for it.
I tested the: 5.- App sends on/off LED12 and LED14. WiFi. WebServer. Static IP. and got html code printed in textbox, without led on when pressed ON LED16 button (was: 12/14), which ON/OFF well when controlled by web page in 4.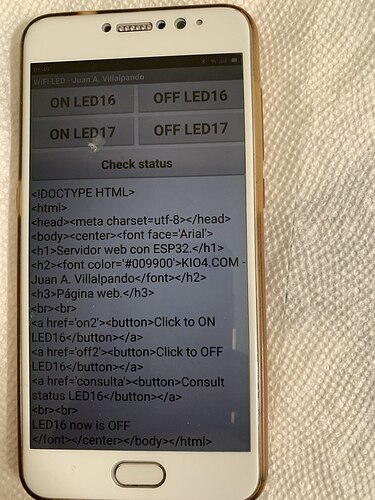 The ESP32 code used from: 4.- ESP32 Soft Access Point. Web Server. Web page on/off LED2. Check status LED2.
can this the problem? how to fix please?
the 'Check status' button works fine, you can see: LED16 now is OFF in the second last line.
Thanks
Adam