I try to position a slider based on a value coming from a Arduino controller via BT.
Communication is OK and the values that are sent by the Arduino are confirmed to be good in the list I produce after reception via BT.
Then … when I put that value into the sliders ThumbPosition, the value gets crazy. I.E. the incoming value is 50, what is left over in the ThumPosition is 48.45. Or from 54 become 51.8.
The deformation happens at the point tha value is transferred from the list into the ThumbPosition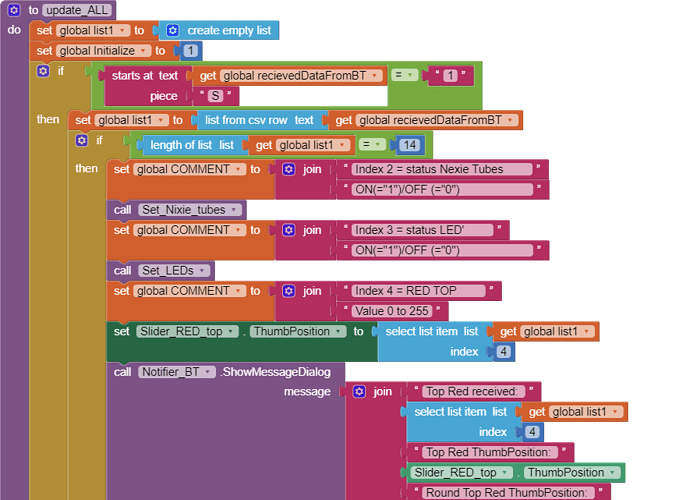 When you take a look at the block whatch out for "Notifier_BT call" I used the present a message with 3 values: the value that came in via BT and that sits now in the list (item 4). The value as it is in the ThumbPosition of Slider_RED_top and that was set right before this message, and the the rouded value.
The last test showed me: "Top Red received: 54 Top Red ThumbPosition: 51.8 Round Top Red ThumbPosition: 52"
The goal is to have 3 times the same value: 54, of course.
Has anyone an idea what I'm doing wrong? Or an explanation what is going wrong? Remediation?