Hello everyone,
Today I present my another extension which is Mixpanel Analytics extension. By using this you can easily log events from your application.
Blocks -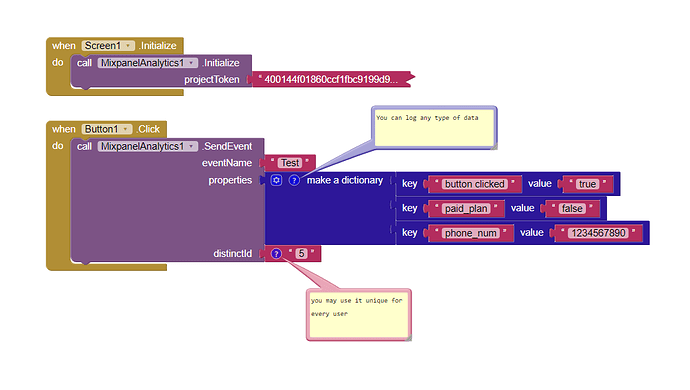 Documentation -
Initialize
projectToken | text

---
SendEvent
eventName | text

properties | dictionary

distinctId | text

---
FAQ
What is mixpanel analytics?
mixpanel can be a good alternative option to firebase analytics. You can know more about it here
---
What is distinct id?
https://help.mixpanel.com/hc/en-us/articles/115004509406-Distinct-IDs-
---
How to check logged events?


I am trying to implement functionality to add users with profiles



as you can see, It displayed the properties we logged with dictionary
---
How to get project token?
You will get your project token in settings of your project

Credits
Thanks to @Android_Builder (Beta Tester)
Thanks to @Shreyash for his Rush extension builder
Thanks to @vknow360 for his Extension Documentation Generator
Download Extension
com.vedang.mixpanelanalytics.aix (36.4 KB)