I had the same issue. I changed to chrome and just works fine.
This appears to be an issue involving latency in your ISP. Check the Use Legacy check box on your Companion screen before you use the QR Code and Chrome will work without getting stuck at 20%
@jis there seems to be an issue w.r.t. Chrome affecting multiple users (including me).
Yes it worked in chrome with the true value in Use Legacy
Thanks for letting us know. Glad Chrome and Companion are working for you now. MIT will be informed there is a new issue w.r.t. using Chrome.
Now it works. The error was given to me in Chrome with the Companion App Inventor and Kodular.
i have some problem
can tell me how to fix it
the progerss still stop at 20%
If you are using Chrome @terry23462016 you can try this advice:
What happens if you Check Use Legacy on your Companion before pressing QR Code?
i try to use aiStarter , it can work
but if i use nox or bluestack even i check use legacy , it still not work
If you use Companion with a real android, can you live develop using Chrome if you check the Use Legacy box? This is the problem other users are having.
You say you are having issues accessing nox and Bluestack emulators which I think are accessed using Companion.
Good the basic emulator works . Regarding nox or bluestack, sorry, I can not help you with these third party emulators.
Perhaps @ABG will have some ideas and post here his thoughts.
Same problem with Brave browser.
Ok with Chrome
I am also experiencing stalls at 20% from my Brave (Chrome) web browser sessions,
against the Companion app running on MemuPlay emulator.
I just posted we rendezvous server connection dump on a Powere Users thread for previous problems like this.
Hopefully @jis will notice.
I tried vanilla Chrome for my AI2 session, both with and without legacy connection options on the emulated MemuPlay Companion.
Legacy connection entry of the 6 letter code cleared the AI2 connect with companion pop up but did not result in a progress popup. It was followed a few seconds later by a network error connection failure popup from AI2.
WebRTC connection stalled at 20%, same as Brave.
Stop in 20 Establishing ...
Chrome + MIT COMPANION
Chrome + Kodular COMPANION in Kodular.
Brave + MIT COMPANION
Brave + Kodular COMPANION in Kodular.
It works...
Chrome + Legacy MIT COMPANION
FireFox + MIT COMPANION
FireFox + Kodular COMPANION in Kodular.
That's right, but I'm getting an error with that: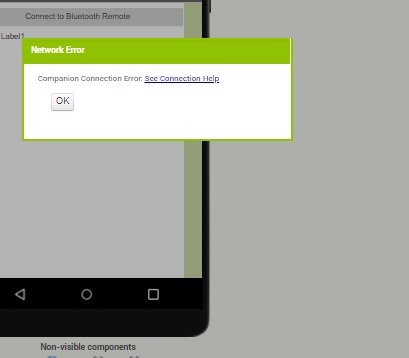 11 hours ago it worked by checking "Use Legacy Connection", now it does not work either.
Chrome Version 89.0.4389.82 (Official Build) (64-bit)
When the "Use legacy connection" is selected, it goes beyond "20 Establishing secure connection in Chrome" but gets stuck at "sending assets..." at 50%.


Same thing happens in MS EDGE.
Firefox works OK either way.
I was able to connect to the Companion on MemuPlay from Firefox, without aistarter.
This had worked from Brave (Chrome) until a couple of days ago.
Chrome 89 introduced an incompatibility with our implementation. I have deployed a mitigation and Chrome 89 (and derivatives) should now work.
This topic was automatically closed 7 days after the last reply. New replies are no longer allowed.