If I save a filename without a slash (file1) what should the file path be when using ShareFile? Delete and ReadFrom both work fine with just the file name, but not ShareFile.
The ExternalStorage block below works fine, but what should X be in the PrivateAppStorage block? I've tried everything I can think of but without success. (I am using Moto G5 with Android 8.1.0 and a Samsung A50 with Android 10 and legacy mode switched on.)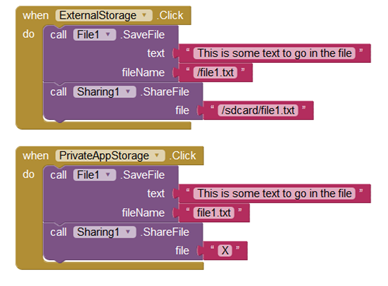 I first had this problem a year ago, but gave up trying to make ShareFile work because it was easy to use other apps like Google Drive to share files. Now when Android 10 and 11 kick in this won't work, so the problem is now more urgent (http://appinventor.mit.edu/blogs/evan/2020/08/08/file-path-updates-android-10).
I have a couple of very useful apps which depend on saving and sharing files and am getting very frustrated. Please help!
Many thanks ... Michael