WHAT'S A TWEEN
A tween (from in-between) is a concept that allows you to change the values of the properties of an object in a smooth way. You just tell it which properties you want to change, which final values should they have when the tween finishes running, and how long should this take, and the tweening engine will take care of finding the intermediate values from the starting to the ending point. (from tween.js user guide | tween.js)
BLOCKS
Add a animator to a set.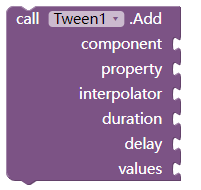 this can be used to add animator on same component with defferent properties, or same properties of defferent componnet, event can use to tween color(backgroundColor, textColor)
component: any visible component
property: string, the property name which you want to tween. You can refer to below Property blocks
interpolator: int number from 1 to 8, representing:1.AccelerateDecelerate, 2.Accelerate,3.Decelerate,4.Bounce, 5.Linear, 6.AnticipateOvershoot, 7.Anticipate, 8.Overshoot.
duration:int number, how long this animator last
delay: int number, how long this animator will be delayed.
values: list of number (or color). if length is 1, that means from this property's current value to this number. if length >= 2, that means, from 1st number to 2nd, to 3rd....
Start the ainimator set


isTogether: boolean, true for play together, false for play one by one.
Pause the animator set

Resume the paused animator set

Cancel the animaiting

Removal all animator in this set


use this before generate a new set.
Animation End event


fired when the animation set play finished or canceled.
property helper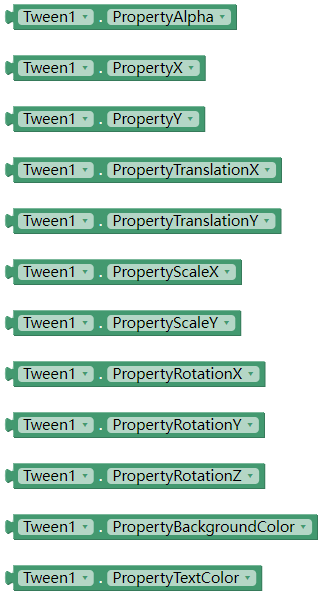 this help you to input the property name with no typo.
This extension maybe support other properties than here listed.
Tell me if you find more.
DEMO VIDEO
DOWNLOAD LINK:
AIX:
https://kevinkun.cn/tween
CREDIT
Thanks for Rush by @Shreyash