But you are using Kodular for coding, please ask in Kodular community.
NO, I had started with Kodular and then ported everything to AI2, a member of the Kodular forum suggested a discussion on AI2 so I had to thank him.
HI
then show the blocks in App Inventor.
Have you seen the previous example borrar_float_ver_2.aia (2.0 KB)?
Here you have another version, I have put the result in two ways with the value variable and with the float variable.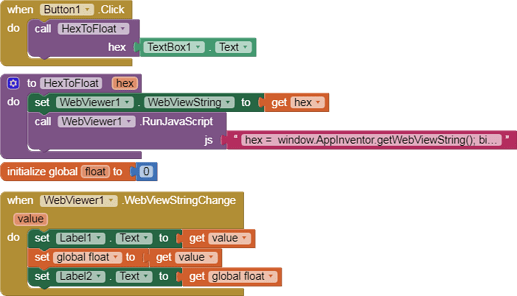 borrar_float_v3.aia (2.4 KB)
if i press the button nothing happens, not even changing the hex string
It works for me. What version of Android are you using?
I believe you
an older tablet v4.4.2
I wanted to use it for this project not to throw it away.
so all I have left is the block versions.
Now I try on my mobile
I agree, it works on mobile.
alternative solution?
does a javascript runtime exist?
Did it work for you on the Tablet with v4.4.2, the example with the javascript in the asset?
borrar_float.aia (2.3 KB)
Does this example work for you with an extension?
on the smartphone yes
unfortunately not on the tablet, the result is always zero
Perhaps try with CustomWebView ?
Runtime Error
Error from Companion: make: no method named `' in class com.sunny.CustomWebView.CustomWebView
on the smartphone it is ok
You may have to use a server side solution, if client side will not work on 4.4.2
With the help of GPT-3.5 you can build an extension...
com.KIO4_HexToDec.aix (6.1 KB)

package com.KIO4_HexToDec;
//  Juan Antonio Villalpando - kio4.com

import com.google.appinventor.components.annotations.DesignerComponent;
import com.google.appinventor.components.annotations.SimpleFunction;
import com.google.appinventor.components.annotations.SimpleObject;
import com.google.appinventor.components.common.ComponentCategory;
import com.google.appinventor.components.runtime.*;
import java.nio.ByteBuffer;
import java.nio.ByteOrder;

@DesignerComponent(version = 1,
    description = "Convert Hexadecimal to  Float - Big Endian (ABCD) - KIO4.COM ",
    category = ComponentCategory.EXTENSION,
    nonVisible = true,
    iconName = "") 
@SimpleObject(external = true)
public class KIO4_HexToDec extends AndroidNonvisibleComponent implements Component {
    private ComponentContainer container;
 
    public KIO4_HexToDec(ComponentContainer container) {
        super(container.$form());
    }

@SimpleFunction(description = "Convert hexadecimal to Float - Big Endian (ABCD).")
public String Convert(String hex) {
    byte[] bytes = new byte[4];
    for (int i = 0; i < 4; i++) {
        bytes[i] = (byte) Integer.parseInt(hex.substring(i * 2, i * 2 + 2), 16);
    }
    ByteBuffer buffer = ByteBuffer.wrap(bytes).order(ByteOrder.BIG_ENDIAN);
    float floatValue = buffer.getFloat();
    return String.valueOf(floatValue);
}
}	// ==> FIN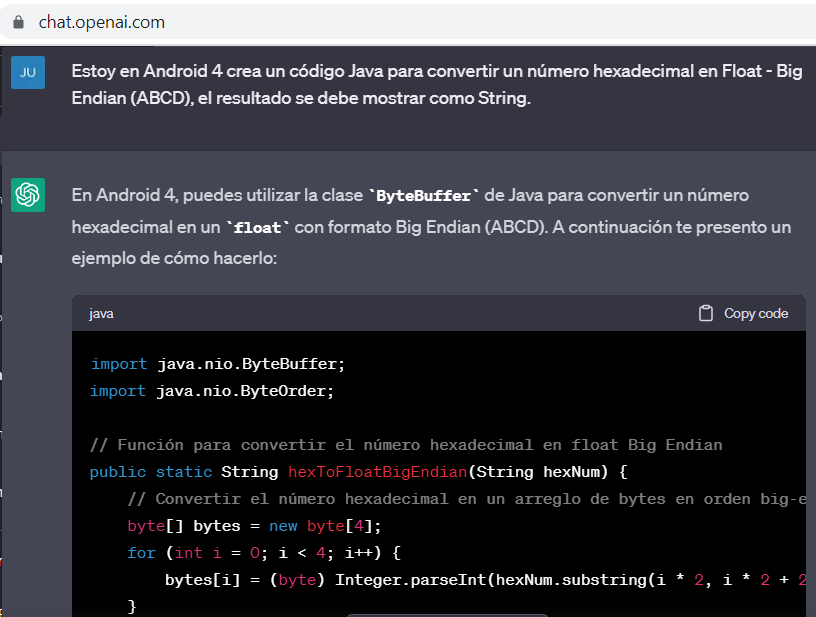 i get this error
in the next few days I try to update the tablet to lollipop 5, I had already done it but it was very slow and I went back.
thanks again for your effort


news:
MIT AI2 Companion gives that error (connect/USB) but if I create the APK and install it on the table then it works and converts fine
edit:
I am ashamed to write to you
i tried the connection ("ai companion") and it works
I tried again with (USB) and now it works