Here is my big chunk of code: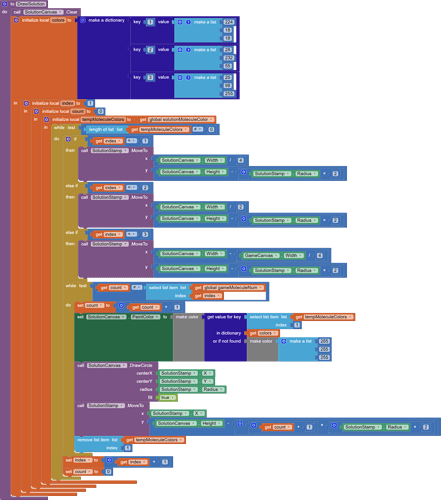 Basically, global solutionMoleculeColor is = (1,1,2,2,3,3 / some random variation with 2 of each number). I am stamping each number of solutionMoleculeColor, and so I do that by deleting the part I already stamped. But I need to access solutionMoleculeColor later on.
So to solve that, I set a temporary variable that is = solutionMoleculeColor, and I will delete the parts I stamped on the temporary variable so I can use solutionMoleculeColor later on. My problem is that it is still deleting solutionMoleculeColor and I have no idea why. I tried various other workarounds but it's like my project is cursed to always delete solutionMoleculeColor
Hopefully this makes sense. I'll insert the whole project download just in case.
TLDR: code is deleting wrong list
Eureka.aia (22.0 KB)